With the Media Creation Tool (MCT) for Windows 10 2004 (May 2020 Update) you can create your own ISO or have it written directly to a USB stick / DVD. In this Windows 10 the Home, Pro and Education are also included as an N version).
You can use this stick not only for a new installation of Windows 10 2004, but also for a repair or an in-place upgrade repair, for example, if an update "sticks" again.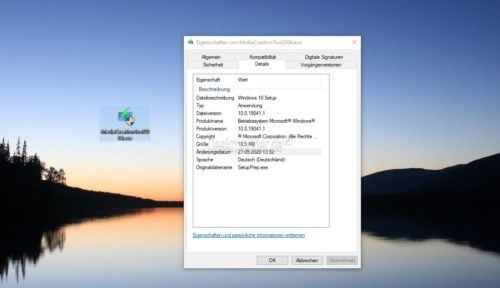 MediaCreationTool (MCT) Windows 10 2004 19041 from Microsoft
The MCT always downloads the version currently provided by Microsoft. This does not always have to match the current update. But the current updates are loaded directly from the stick or setup.exe. Unless you have cut internet access.
MediaCreationTool2004.exe Now loads the Windows 10 2004
If you want to check which version the MCT loads, you can check it in Product.xml:
If you prefer a current ISO with all updates, you will find it here
MediaCreationTool (MCT) Windows 10 2004 18041 Mod (bat)
With the MediaCreationTool asked Tool it is possible not only to download the current Win 10 2004, but also older versions that Microsoft no longer offers with its own MCT. This is made possible by a script that starts a preliminary query as to which version you want. After that, the process is the same as for the original MediaCreationTool.
Download link follows.
Right-click to start the bat as an administrator. (If the smart screen protection "intervenes", simply click on Execute anyway).
Now the selection starts. After e.g. Windows 10 2004 has clicked, the MCT and the associated files (product.xml) are now reloaded by MS and the MediaCreationTool starts as usual.
Learn more about Windows 10 2004
Windows 10 tutorials and help
In our Windows 10 Wiki you will find a lot of helpful tips and tricks. If you have any questions, simply ask them in our Forum.
Installation media: Current installation files can always be found here in the right sidebar. Windows 10 2004 ISO (19041), or 1909 ISO (18363)
Installation: Install Windows 10 Clean, reinstall Win 10 1909, reinstall Win 10 2004
Current problems with the: Windows 10 1909 and 1903
Repairs: Inplace upgrade repair, Win 10 repair via DISM, sfc and others, Windows Update repair, Start menu repair, Apps repair, Store repair, network repair
Registration: Win 10 automatic login
Remove, Uninstall: Uninstall apps
File Explorer: Remove folder under This PC, Network, OneDrive etc. remove in explorer
Correct use: Use start menu correctly, use search correctly,
Important: Each tutorial shows which version it is suitable for.