Apple released macOS Catalina version 10.15.5 yesterday. The "small" update with a size of over 3 gigabytes brings new battery management to MacBooks in particular and corrects various small to medium-sized errors and security gaps. As always, you will find the corresponding changelog below.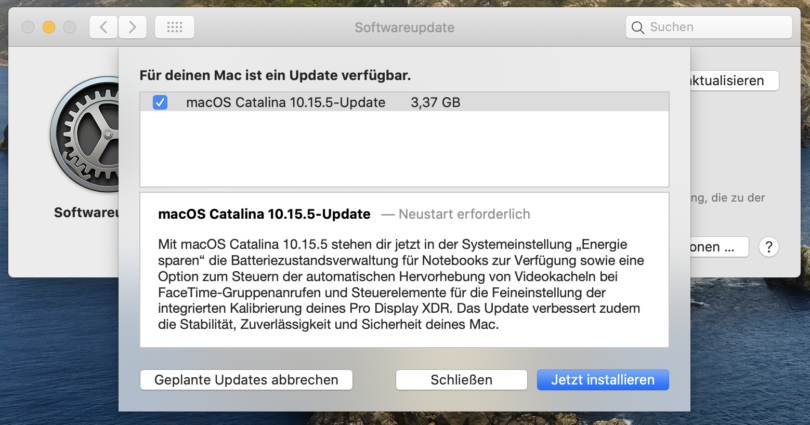 macOS Catalina 10.15.5 changelog
With macOS Catalina 10.15.5, you now have battery status management for notebooks in the "Save energy" system setting as well as an option to control the automatic highlighting of video tiles for FaceTime group calls and controls for fine-tuning the integrated calibration of your Pro Display XDR. The update also improves the stability, reliability, and security of your Mac.
Battery status management
Battery health management to maximize the battery life of Mac notebooks
New display of the battery status in the "Save energy" system setting, which indicates when battery service is required
Option to disable battery health management
For more information, go to: https://support.apple.com/kb/HT211094
Setting for highlighting in FaceTime
An option to control automatic highlighting in FaceTime group calls that does not change the size of the video tile of speaking participants
Fine adjustment for the calibration of the Pro Display XDR
Controls for fine-tuning the built-in calibration of your Pro Display XDR by modifying the white point and luminosity for precise adjustment to your own display calibration goal
This update also includes bug fixes and other improvements.
Fixed an issue where "Reminders" might not send messages for recurring reminders
Fixed an issue that could block password entry on the login screen
Fixed an issue where the system settings would show a hint even after installing an update
Resolved an issue where the built-in camera may no longer be recognized after being used for a video conferencing app
Corrected a problem on Mac computers with the Apple T2 security chip, where the built-in speakers may no longer appear as sound output devices in the Sound preferences
Fixed a stability issue when uploading and downloading media files from iCloud Photo Library while the Mac was idle
Resolves a stability problem when transferring large amounts of data to RAID volumes
Fixed an issue where the Reduce Motion accessibility setting would not slow the pace of animations in a FaceTime group call
Some features may not be available in all regions or on all Apple devices.
For more information about this update, see: https://support.apple.com/kb/HT210642
For more information about the security aspects of Apple software updates, go to: https://support.apple.com/kb/HT201222